We did it! We're back in the Bahamas! April 23 2011
We have had loads of fun with visiting friends and family in the Virgin Islands but it is time to knuckle down and focus on Barefeet. Off we went from Soper's Hole to Charlotte Amalie where we booked a slip for three days at Crown Bay Marina in order to have a stable platform on which to carry out maintenance and have an easy on-and-off for provisioning (April 3). The days passed in a blur of activity; generator service and maintenance, starboard engine cable adjustment, seven loads of laundry, provisioning in four stages at Pueblo supermarket (booze, freezer meat, general larder, fresh veggies), administrative tasks like sending mail and updating the bank accounts, watermaker servicing, fill propane tank, clean sea strainers (fridge, freezer, air conditioner). Eeegads and a complete cleaning of the interior. We were pooped by the end of each day and in bed by 9pm. In the background we kept our eye on the April 6 weather window (along with the rest of the cruiser fleet). It looked like Mother Nature would give us a thumbs-up to make the passage to the Bahamas but it was a bit tough to imagine with the torrential rain squalls and dark skies. We carried on and waited for the sixth to arrive. Sure enough the sixth dawned sunny with mellow winds and Barefeet was now ready for the boat services desert of the Bahamas. Phew.
Our time in the Virgin Islands has come to a close but it was wonderful to get to know this corner of the Caribbean. Oh, but there is plenty we missed which definitely encourages a return trip. Following are a few of our BVI favorites: best french fries - Willy T's (what do they sprinkle on them?!); best cocktail - Painkiller at The Soggy Dollar bar; best burger - Saba Rock; best pizza - Jolly Roger; best hiking - Biras Creek/Bitter End on Guy's Trail; best snorkel - Indians off of The Bight at Norman Island; best alfresco dining - Anegada Reef Hotel. And these are a few of our St Thomas Favorites: best breakfast - Gladys' Cafe; best pizza - Island Time Pub; best burger - Shipwreck Tavern; best neighborhood - Frenchtown; best night time view - deck lounge of the Marriott. So long Virgin Islands! Bahamas here we come!
We tossed the lines from Crown Bay Marina at 10.30am (Apr 6). There was a Mexican Shepherd's Pie casserole in the fridge and plenty of books aboard to pass the time. Sadly (but as usual), the first day or two of a passage finds us fidgety and unsettled. A five day passage is much better than 19 or 26 days but we are just not passage people. However, there was nothing for it so we slowly mellowed into passage mode while flying the spinnaker in a Robin's egg blue sky. Later in the afternoon we passed the islands of Culebra and Vieques followed by Puerto Rico the next morning. The sea turned bumpy but we continued to sail (April 7). Chris had a rough sleeping shift and Erin bounced around in the cockpit...thank heavens for a lovely sunset diversion. We continued through the Puerto Rico Trench which is a stretch of sea that is 25,000 feet deep (that's more than four miles deep). April 8 found us off of the Silver Bank (northeast of the Dominican Republic) where humpback whales congregate for mating January through March. Bummer, no stragglers that we could see.
Wildlife on the whole has been minimal; however, sargassum seaweed continues to dot the surface of the ocean. It derives its name from the Portuguese word for grapes and originates in a massive clump from the Sargasso Sea of the North Atlantic that eventually works its way to the Gulf of Mexico. The larger clumps act like a "floating hotel" where many animals live and hide. For example, small sea turtles feast on shrimp and crabs while evading sea birds. For us the passing shapes were like a changing array of road signs and nicely broke up our endless ocean monotony. An expected drop in the wind created calm conditions and a stable deck that was perfect to string together all of our courtesy flags that would function as Barefeet's party dress when we cross our track in the Bahamas (April 9). The string will stretch from the bow, up the mast and back to the stern. Our project completed and the wind again filled in enough that motors were turned off. Later in the night we passed the Turks and Caicos followed by Mayaguana (Bahamas) the next morning. We had one more night remaining before reaching our destination of Conception Island but needed to slow down in order to arrive in daylight. A shore visit to the Plana Cays would slot in perfectly so we continued on (April 10).
The Plana Cays are part of the Bahamas out islands. They are uninhabited with coral fringed shores, spectacular turquoise blue through jade green waters and white sandy beaches...but only worth a visit in settled conditions. The weather was on our side to take a closer look so we were into the dinghy and soon walking with powdered sugar-like sand between our toes. Columbus dubbed this group of islands "the fragrant islands" due to the pleasant scents that wafted to his boat. Well, we agree and were amazed at the thick, sweet scent that came well offshore emanating from the West Indian Sea Lavender which thickly carpeted the shore above of the tide line. We did some beach combing and found numerous shells, random containers, orphaned shoes and even a big, plastic Virgin Mary lawn ornament. Whose lawn is empty now?!
Back to Barefeet and we settled into our final night of the passage. As the sun rose early in the morning Chris woke Erin with a cup of coffee so that we could watch the approach of Conception Island together (April 11). This is a special anchorage for us because it marks the crossing of our track and it closes the loop of our circumnavigation. We blasted the song Southern Cross by Crosby, Stills, Nash and Young (thanks for the lyrics Mike)...Got out of town on a boat going to Southern Islands...Making for the trades on the outside and the downhill run to Papeete...Off the wind on this heading line to the Marquesas...What heaven brought you and me cannot be forgotten...When you see the Southern Cross for the first time you understand now why you came this way...I have my ship and all her flags are a flyin'...We never failed to fail; it was the easiest thing to do...You will survive being bested...(cue the chorus)...I HAVE BEEN AROUND THE WORLD!!! We high-fived each other with tears in our eyes. We did it!!! We did it!!! Wahoo!!
Conception Island was just as lovely as we remembered and perfect for our celebration. Barefeet was dressed in her party dress and we set about dusting off the remnants of the passage. A dinghy drove past and asked what our flags said. Well, they hooped and hollered congratulations as we said that they announced the completion of our circumnavigation. Wow, that was really fun to say out loud. To work off some of our pent up passage energy we swam to shore and walked the beach. This certainly is a pristinely beautiful island worthy of its designation as a land park under the protection of the Bahamas National Trust. But enough exploring for one day. We needed to shower and get ready for our party. Four o'clock marked the start of the fun with cocktails. What else but a Sudanese sling (pear vodka with apple juice created with s/v Xanadu in a marsa in Sudan)?! Dinner followed with too much wine accompanied by grilled steaks, baked potatoes and cucumber salad (thanks Phyllis). Yum, this was one of the tastiest meals we have ever had. And despite the fact that there were only two of us seated at the table we know that we were joined by many. Thank you for the support!
The next day, clear headed and energized, we buzzed the dinghy around the corner with the kayak perched between us and the paddles wedged on the floor (April 12). Snaking through a break in the coral reef allowed us to enter the inland creek. We anchored the dinghy and transferred to the kayak. Four years ago we explored this creek with Bill and Louise (s/v Andelen) and it still wows us today. The creek is dotted with sand banks and alternately lined with mangroves, rocks and sandy shores. We spotted herons and oyster seekers, terns and tropic birds and more turtles than we could count. There's one, oh and another one and another one over there. Each dark shadow on the sandy bottom suddenly burst into flight as we got close. Hhhmmm, one turtle was not too bright. His buddy circled him wildly several times before getting as far away from our alien kayak as possible. The sedentary fella seemed oblivious to us and floated directly to the surface looking to inhale a deep breath of air only to be shocked out of his breeches when he spied us two feet away. Okay, that was pretty funny. Chris proclaimed the area Turtle Hole while we floated around and enjoyed the show. A brief thought to slip into the water for some underwater photos was quickly dashed when we saw a shark prowl past the kayak. Yikes, the kayak was quickly transformed in our minds from a sturdy barrier tank to an egg shell thin screen. Thankfully, we only saw him once and continued on our way. Then it was back to Barefeet for some coral reef exploration just behind the boat.
Our Bahamas plan is to day hop north with only 30-40 mile travel days and to stay a couple of nights in each anchorage. To keep to this leisurely pace it was time to make a move. We pulled up the anchor from Conception Island and headed for George Town in the Exumas (April 13). Our afternoon arrival 42 miles later had us shuttling through the officialdom of customs and immigration. Forms were completed, $300 cruising fee was paid and courtesy flag was raised. We were anchored off of Sand Dollar Beach and happy for the uncrowded anchorage. Boat count is greatly reduced this time of year as many cruisers have already started their migration north to the US and Canada. However, there are enough boats to keep favorite activities going like the Texas Hold 'Em poker. It's a friendly game hosted at the laid back St Francis Resort with sign-ups at 5pm ($5 in), start time at 6pm and cruiser dealers (www.stfrancisresort.com). The game began with four tables of nine people that dwindled down to a single table a few hours later (April 15). Chris joined in the fun but missed winning some money by just one slot (he came in sixth).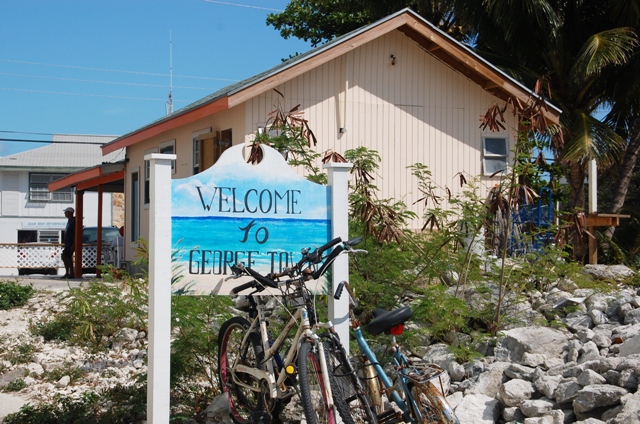 The city of George Town is small but reasonably loaded with resources, provisions and services...albeit on island time. We made an (anticipated) quick trip into George Town to make a few phone calls which turned into a five hour schlep due to a business meeting that kept the local phone company closed until 2pm (April 15). Oh well, we stopped in at the public library, checked out the straw market as well as the Sandpiper Boutique (www.sandpiperexuma.com) and made calls from the friendly J&K Productions shack; it's a computer store and a grocers with 30 cent kool-aid in a cup "popsicles" available in the freezer...very homey. Later we relaxed with a cold soda at Peace & Plenty Club and Beach Inn (www.peaceandplenty.com). The serene P&P patio with the million dollar view helped to reset our zig zag of a day. Then true to their word the phone company opened at 2pm and within 20 minutes we had a SIM card and were headed back to the dinghy dock.
Next on the agenda was exploration the other side of Elizabeth Harbour; Stocking Island as opposed to Great Exuma Island (April 16). It's the cruiser side rather than the city side and it is made up of Volleyball Beach in the center, Hamburger/Monument Beach to the west and Sand Dollar Beach to the east. There is an endless stretch of sandy solitude on the northern side of Stocking Island contrasted with community and social on the southern side comprised of Chat 'N' Chill, a conch salad stand and a sand volleyball court shaded by pine trees. The choice is up to you. Cruisers keep the walking trails between the two sides clear of burrs and other prickly things so that all can be walked barefoot. We started with the solitude and finished with a goombay smash from the Chat 'N' Chill as afternoon volleyball got underway. It really is amazing (and wonderful) to be in a familiar place after being "the new kid in town" for sooo long. The evening became a bit of a La Gomera reunion with Deb and Terry of s/v Wings and Dave and Lynn of s/v Moonbeam in town...with new friends Ann and Tony of s/v Pavo Real added to the mix. We caught up on recent adventures, played a little Name That Tune, swapped Bahamas info and passed along some unused internet time before we called it a night.
Goombay Smash (from Lermon Rolle, Doc of Libations at Peace & Plenty): Pour the following into a cocktail shaker; shot of Bacardi rum, shot of coconut rum, shot of Galiano (banana-flavored liqueur) and pineapple juice to taste. Shake briskly then pour into a tall glass with ice and garnish with a cherry or slice of orange.
The next day we headed north 35 miles along the Exuma Cays (April 17). It was a day of light wind which had us gently motoring in calm seas. We entered the Exuma Banks at Galliot Cut at a slow 3-4 knots with both engines going due to swirling current exiting the narrow, rocky gap. In search of an anchorage to ourselves we crept across sand banks at low tide with not much more than six inches of water below our keels. The anchor went down in six feet of water and we were anchored in our own aquarium off of Big Farmer's Cay. There was an orange starfish on the sandy bottom right beside the anchor chain and a ray fluttered in the distance. We could not get into the water fast enough! Flowing tide created some fuzzy visuals but not fuzzy enough to miss the huge ray sitting quietly on the sand. No need to startle the bat-like critter so back we went from where we'd come. Chris made another great pizza that was made even better because we had purchased home grown tomatoes along the road in George Town. Fresh fruits and veggies are available in the Caribbean but they have usually spent their entire transport and storage life in a refrigerator. It is a practical necessity due to the heat and distance in travel but such cold temperatures do nothing but zap the flavor into oblivion. We felt quite lucky as we watched the full moon rise without another boat around...magic.
Marinated Tomato Pizza: 4 tomatoes, chopped; 5 cloves garlic, minced; balsamic vinegar; olive oil; salt; pepper. Pizza ingredients: two pizza crusts; ricotta cheese; jack cheese, grated; basil, chopped. Mix tomato ingredients in a bowl to taste and set aside for a couple of hours before making the pizza. Roll out the pizza crust and top with tomato mixture, followed by dollops of ricotta cheese and grated jack cheese. Bake at 425 degrees F for 20 minutes. Remove from the oven, top with chopped basil and serve.
Staniel Cay was a mere 18 miles further along the Exumas and our destination for the next two days (April 18 and 19). A previous visit with Hugh and Fran had us eager to replay some favorite moments. By 1pm we were anchored happily with a few dozen boats in Big Major's Spot; a base to see the sights. First stop...the swimming pigs. Yep, swimming pigs! They are still here and such a hoot to see with snouts and curly tails bouncing above the water as hooves paddle below. They are too much! Another must-see is the Staniel Cay Yacht Club (www.stanielcay.com). It's a humble bar and restaurant that draws sailors like a magnet. Oh, and sharks are drawn close, too, with a fish cleaning station at the end of the dock. We walked along the paved roads shared infrequently with the island's primary form of transport...the golf cart. The island looks much as we remember it; however, there is definitely more building going on with lovely new homes in various stages of completion dotting the landscape and actual street signs labeling every corner. The Blue Store and the Pink Store remain the supermarkets of the island with just a few provisions and fresh items. Oh gosh but the real star of Staniel Cay is the sea. The waters are second to none with their infinite shades of blue and seemingly endless vistas.
It was another low mileage day as we moved from Staniel Cay to Warderick Wells (April 20). The 17 miles slid by with the genoa alone giving us 5-6 knots boat speed in 18 knots of east wind. Island paradise cays kept the waves down and dotted the space between us on the Exuma Bank and the Exuma Sound beyond (and the Atlantic Ocean beyond that); Sampson Cay, Compass Cay, Cambridge Cay and O'Brien's Cay to name just a few. Warderick Wells is a Land and Sea Park with park ranger staff as the sole island inhabitants. We anchored off of Emerald Rock in calm, powder blue water...behind a mooring field?! Wow, the mooring field is new to us...and spaced rather generously, in our opinion. But we want to support their efforts and since the place is a National Park we planned to spend some money in the gift shop rather than on a mooring ball. Drat, it seems the place is being run a bit too much like a business for our taste. Trails are no longer named for the volunteers who cleared them and wifi (for a fee) is only available to those who pay for mooring balls. Hhhmmm, now that seems down right un-neighborly. We'll stick to the natural beauty and move on.
Off we went to Highborne Cay (April 21). It was another beautiful day of sailing with winds strong but waves kept down due to the fringing cays. Our anchorage was a change of plans due to forecast strong winds throughout the night. Rather than Allan's Cay (and the iguanas) we tucked behind larger Highborne Cay. The winds howled during the night but our conditions were mild and infinitely sleepable. We were off again the next morning for a 30 mile run to Nassau (April 22). Wow, sailing at 8 knots made short work of the distance. Fighting current, wind and immovable wooden posts and docks Chris backed Barefeet into a slip at Nassau Yacht Haven Marina without a single nick to the gel coat (www.nassauyachthaven.com). Well done! Tying up took longer than normal as we attempted to incorporate the 3 foot tides as well as the rushing current and pleasure seekers whizzing past. A bit of cleaning and policing and we were ready for friends Jen and Jeff when they arrive tomorrow. Phew, now its time for dinner. Shucks, it's Good Friday...that was a quick mental snap from relaxing over a meal and a cocktail to grabbing whatever is available. Due to the holiday EVERYTHING was closed for the night. Everything that is except the On The Go snack shop beside the gas station. Oh well, the curry chicken patties and steak fries were flavorful and good. We'll go out tomorrow night. For now we will be in Nassau for Jen and Jeff's visit and then continue north. We will hop along the Abacos much as we did the Exumas...unless...Mother Nature gives us a weather window for a single hop to the Chesapeake. Either way we plan to be in the Chesapeake sometime in May. Holy cow - that's the USA!