Barbuda, Anguilla and arrival in the BVIs: February 14 2011
The good news from our rigger Shawn resulted in schedule confirmation and new life lines for Barefeet (Feb 1). Yippee! In preparation for the job we removed the old life lines, cleaned the stainless to gleaming and coated it with a metal protector. Old, plastic covered metal lines were replaced with spectra rope...actually stronger than steel but won't rust. Bishop from Antigua Rigging did 30 splices of 12-strand rope in two hours...super impressive. Heck, we can barely tie square knots that fast...never mind executing clean splices. Chris "went to school" and learned more about splicing and Bishop slowly got used to Chris' endless array of questions. Fresh chocolate chip cookies and cold beer were our thanks for squeezing Barefeet's small job into Antigua Rigging's busy schedule (and payment of the invoice, of course). The new life lines look great and Barefeet sparkles. We had fresh veggies in the fridge, the job was completed and there was enough sunlight to make it back north to Deep Bay. Off we went from Falmouth Harbour.
Antigua was the perfect landfall after our Atlantic crossing but we needed to get moving...and see more of the Caribbean. At 7.30am our anchor was up and our sails were unfurled (Feb 2). We made a zippy hop to Eleven Mile Beach on the west coast of Barbuda (averaging 7.5 knots boat speed). Wow, this is a beautiful spot! There are miles of pink sand beach bordered on one side by low vegetation and on the other side by turquoise blue water. Human development is sparse and not nearby. The cruising guide bellowed about tricky coral which made us a bit nervous as we arrived...at noon...for prime coral spotting. But the bellowing was a bit overblown as the chart was good and the coral was not in large abundance...unless you went searching for it. Barbuda's low profile (highest point is 125 feet above sea level) gives us the impression of being anchored in the middle of the sea with our own private beach. Sundowners on the deck as we soaked in the view was special.
Barbuda is a nature lover's paradise with the Frigate Bird Colony as its star attraction. Supporting cast includes donkeys, horses and deer roaming free on the island as well as eagle rays and colorful reef fish just a snorkel away. We contacted George Jefferies for a tour of the Frigate Bird Colony and a ride to the main (and only) town of Coddrington for official clearing out papers (George ph. 268.788.7067). George has been helping yachties for years ferrying them from the beach to the salty lagoon and into town. George took us up close to view the nearly 2,000 frigate birds (Feb 3). The mangroves and skies were alive with black birds, white chicks and red pouches that looked like beach balls. The mass of movement and activity concentrated in the small area of the lagoon was amazing. Frigate Birds have a six foot wingspan and a three pound body...allowing effortless long distance soaring. Mating season begins in the eastern Caribbean in September as males inflate their large, red pouch under their chin to attract a female...hhhmmm, all females seems to be looking for a bit of flash. One egg is laid per couple then both parents initially raise the baby. However, eventually Mom stays around as Dad heads off to the Galapagos for another mating season...before returning again to Barbuda. Frigate bird homing instincts are legendary.
Wrapping up our time on Barbuda meant that we needed to check-out of the country (Antigua and Barbuda islands are part of the same country). George pointed us in the right direction and, once completed, would provide a shuttle back across the lagoon to our dinghy on the beach. We walked the small town of Coddrington from the port office to customs and finally to immigration. Even officialdom is laidback on Barbuda where offices more closely resemble rooms added to homes as opposed to stand alone offices. Lunch breaks from your own fridge...excellent. Chats with George highlighted a gasoline shortage on the island so we offered to pay for the tour and services with a jerry can of gas (including the jerry). No worries and George was quite pleased. We studied the upcoming weather and strategized our next moves. A "not perfect" weather window could get us to Anguilla before being "stuck" for several days due to strong winds...we took it...and pulled up the anchor at 3am (Jan 4).
Uuugghh, it was a washing machine sea from start to finish with sails filled by strong winds (23 knots). We clenched and gripped as Barefeet lurched, bashed and was drenched with sea water up and over the coach roof. Weather was warm so we were in bathing suits...nice...except for the bruise on Erin's back created from her bikini digging its knot into the center of her back as she wedged into the nav seat for a bit of support. Our continued cruise through the Leeward Islands of the West Indies took us past Nevis, St Kitts and Statia as well as past St Barts and St Martin...ah well...we cannot see everything. It was a 14 hour run across 90 miles but soon forgotten as we settled into sausage and green pepper pizza freshly made by piazzalo Chris. Road Bay in Anguilla was our new home as well as our hidey hole for the passing blow...plus our jumping off point for the 80 mile leap to the British Virgin Islands. The anchorage is large with a sandy bottom void of hazards...great for anchoring. We will depart in the next week or so...in time for BVI visits from Chris' brother and Erin's parents beginning in mid-February.
Anguilla is a self-governing British Overseas Territory where the US dollar is the primary currency, followed by the EC dollar. The island is flat, made of coral and limestone and dotted with spectacular white sand beaches. We anchored in Road Bay, dinghied into Sandy Ground Village and presented ourselves to customs and immigration for check-in. All went smoothly and we were soon off to explore. Sandy Ground is basically a single line of beach bars and restaurant shacks...flip flops optional. However, there is an Ace Hardware store beyond the village the likes of which we have not seen in...awhile...complete with American style plugs and electrical outlets. Guess that doesn't quite add to the serene, beachy scene?! Other than that the village is pretty quiet with goats sharing the roads with the random car. However, the real reason we chose Anguilla was Elvis' Beach Bar for the Super Bowl (www.elvisbeachbar.net). The Patriots were not in the show but we are thrilled to be able to catch the game...and the American commercials, too. Plus, the 12 foot TV placed directly on the sand had to be seen to be believed. The bar filled with more than 200 people...most even seemed to know the game of American football (Feb 6). Elvis schmoozed the crowd and kept the rum punches flowing. After the game we made the short beach walk back to the dinghy dock under a star filled sky...fun night.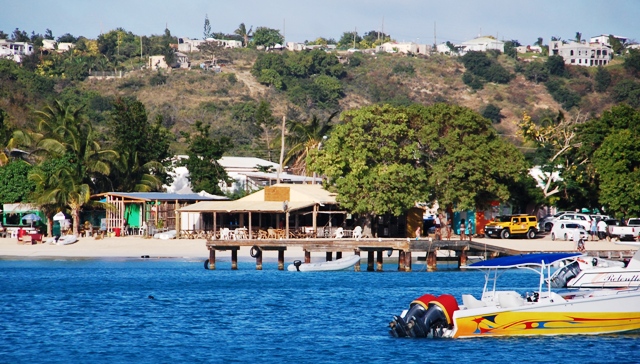 Barefeet needed some cleaning after salty passages and dusty landfalls which kept us boat bound February 7. Walls were cleaned, windows de-salted, stainless was rinsed with vinegar and water, hatches re-gasketed, sit-arounds put away, rust drips removed. Hey, Mother Nature even pitched in with passing rain showers that cleaned the decks and rigging. The end result was a sparkling Barefeet...ready and eager for guests. Dinner of chicken tikka masala after a swim was ample reward for the hot work...we'll head back ashore tomorrow. Anguilla Island is a mere 35 square miles...just slightly smaller than Miami. There is an airport but it is only big enough for small, personal planes. The Valley is the commercial center of the island which requires focus (and lack of blinking) to notice. We decided to check out the island in a rental car...thus discovering the nearly deserted beaches for which the island is famous. Bass Car Rental was friendly and had a car available (ph 264.235.6494). The automatic transmission was a welcome change from European stick shifts but the left hand drive still stumped Erin from time to time. And it seems that revenue sharing between bureaucracies is not yet ironed out. We paid US$20 to clear in and out of the country via the port authority, immigration and customs. Can you tell who was left out? Well, the car rental is one price (US$35 per day) but an additional fee is charged for a temporary driver's license which goes to the police department (US$20). There is no test or list of questions...just a piece of blue card stock with a blank line for the name of the driver of the day. Hhhhmmm...every place is unique.
We began our island tour on the East End at Junk's Hole Bay (Feb 8). This section of coast was wild and crazy during our visit with strong winds and crashing waves. We passed on the snorkeling. Beachcombing rewards were interesting bits of coral (while we ignored the bird carcasses). We were the only beach walkers in sight and Palm Grove Barbeque Grill was the only building we saw. Sadly, it did not open until 11am so we moved on to Shoal Bay East on the north side of the island. The wind was still strong but the stretch of beach was pristine with powdery sand and shades of turquoise blue sea. Lounge chairs and umbrellas were for rent but we decided to walk the shore instead of reading a book. Not quite ready for lunch we continued west along the coast past Crocus Bay and out to West End. We followed the paved road that became a sand road until it dead ended into Shoal Bay West. The beach was peppered with only a few villas and a single, charming trattoria. Okay, it was now time for lunch. We eased into a table with a view that stretched across the sand and palm trees, out to the sea and across to St Martin. Trattoria Tramonto lowered our blood pressure...pressure which we did not even sense before arriving (www.trattoriatramonto.com). Sunbathers migrated from lounge chairs into the beach hideaway restaurant under simple cover-ups with sand still between their toes. The relaxed vibe kept us there longer than expected before we leisurely headed back to Sandy Ground. Ah, the Caribbean is carefree.
What do they say; the more things change, the more they stay the same?! Continued flash rain storms kept us scampering to close windows and hatches. Continued strong winds kept us delaying our Anguilla departure just one more day, just one more day. It's true that we are likely being too cautious about picking our weather window but after having our butts kicked from Barbuda we are not eager for a repeat washing machine trip. We continued with a bit more cleaning and sampled another beach shack restaurant. Delicious tapas such as chicken satay, ancho fries, spicy pork tenderloin and olive stuffed meatballs were the name of the game at Sandbar...yes, there were fish options but we weren't interested (Feb 9). Great beach hangout as the sun went down.
February 10 provided a mellower wind and sea state report from the gribs AND wind guru. Our hop to the BVIs will be 80 miles...tough to do with light on both departure and arrival. Therefore, we departed at 5.30pm, used only a scrap of the genoa and pegged an arrival for 8am. We picked up the hook and began the trip with dinner while we were still in the protection of Anguilla. James Villas' Blue Plate Noodle, Beef and Cheese Casserole recipe is always a winner. Yum! As hoped, this was a much better passage than Barbuda to Anguilla; however, rain showers and a lumpy seas were still part of the package in winds of 17-22 knots. Arrival into Virgin Gorda had us anchored in Little Leverick Bay and off to officialdom. We taxi-ed over to Spanish Town which gave us an unexpected tour of the island. Stunning Bays and verdant green hills were gorgeous...oh...but watch out for the cows in the road! Check-in was easy and a mere $16 for 30 days...cheaper than the courtesy flag ($20). Erin didn't make this one because it has the Union Jack...and that is a sewing and painting feat that she has no desire to conquer. We hoisted the flag and moved nearby to quieter Biras Creek. Wow, we are in the Virgins and ready for visits from family and friends! Holy cow, the water is much clearer than we have seen which makes us eager to jump in. Pacific cruising friends Jason and Ems ran a charter boat for five years in the BVIs and have filled us with ideas about where to snorkel, dive, eat and anchor. Thanks guys...bring it on!
Our first BVI snorkel was wonderfully familiar as we loaded into the dinghy with fins, masks and snorkels. Look, there's a reef...let's check it out. We anchored the dinghy beyond Saba Rock in Eustatia Sound (in sand not coral) and slid below the surface. Water clarity was good but the coral looked pretty bad...hurricane or algae? That said there were some nice sea fans and a good amount of wildlife. Colorful fish lolled between rocks and coral while turtles and rays darted ahead avoiding closer inspection. And the shells...Erin found a majestic bonnet/helmet shell the size of a basketball. Gorgeous after years of growth that glowed with brown and tan markings as well as graceful ripples at the mouth. But if this grand guy has lived as long as he has...he can live a bit longer and was left to wander the sandy bottom. Agghh, that was hard.
We have a bit more time before Hugh arrives which means we can eyeball some of the anchorages we hope to visit. So long Virgin Gorda, hello Tortolla and Jost Van Dyke. We sailed approx ten miles to Marina Cay and Trellis Bay where planes arrive from the states and anchorages exist. We spun through the anchorages looking at depths...and seeing Kurt and Katie on s/v Interlude. Additional intel from them and we carried on another ten miles to Little Jost Van Dyke. Anchored at Sandy Spit we gathered snorkel gear and were again below the surface of the sea. A few vibrant hard corals were seen as well as loads of colorful fish and even an eel. This really is fun! Ashore there is a funky restaurant...the only thing in sight...Foxy's Taboo. We sat on the covered wooden porch gazing through the palm trees to the breaking waves on the coral reefs. This is all new territory for us with just a few boats around...we like the small population. On our return to Barefeet we heard our names being called from a gorgeous 60 foot catamaran. Amazingly, it was Jim and Amanda from s/v Adventure Bound. Holy cow, this feels full circle. We met these guys in the anchorage at Lake Worth, Florida, before making the hop to the Bahamas in November 2006. We were both so green back then and here we are both still at the sailing game. They sold Adventure Bound and now run the gorgeous 60 foot catamaran. Well done! Hopefully, our paths will cross between their charters. This makes us feel a bit more "back where we started from" and will take some time to sink in.
The next day we had another anchorage to check out...just two miles away. We love these short distances! We anchored around the corner in Great Harbor of Jost Van Dyke (Feb 14). This is a tiny place with four beach restaurants and a customs and immigration check-in/out location. We walked the "strip" and had no trouble finding the famous Foxy's (www.foxysbar.com). The ceiling is covered with license plates, country flags and yacht club burgees. Known for barbeque parties that last into the wee hours with music and song; however, a Monday night might be another story. We are just here for the night before returning to Trellis Bay for Hugh's arrival from the states. More BVI fun and exploring ahead with family.